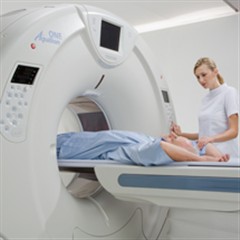 The Premium CT scanner by Toshiba comes equipped with advanced hardware and software. If you are looking to buy the Toshiba Premium, you will have the option to later upgrade your scanner to the Aquilion ONE. When you buy the Toshiba Premium, you will able able to take advantage of advanced innovations such as iStation, coneXact. This scanner offers a wide variety of dose control tools to minimize radiation exposure.
This computed tomography scanner has been designed with some of the leading edge technology as well as ergonomic features to speed your clinic's productivity while increasing the patient comfort you offer. With one single push, you can enable gantry and couch return to its home position. It has an extremely wide patient couch that can hold patients up to 660 pounds.
Toshiba Premium CT Scanner Features
Industry's widest couch and 660 pound weight capacity
Front and optional rear table foot switches
Enable scans for a wide variety of patient body types
Offers enhanced automation and visualization capabilities
For additional information on the Toshiba Premium CT Scanner, please contact CT Medical Scanners. We can provide high quality CT Scanner equipment at affordable prices for your medical clinic.