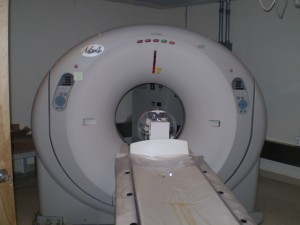 The Aquilion 64 is a whole body 64-slice CT scanner that has been designed to provide your clinic with imaging that provides you with excellent image quality and performance. This scanner has been built on Toshiba's unique 64-row Quantam Detector and is known as the world's only true volumetric 64-slice CT scanner with 64 detector channels, 3-D cone beam algorithms and volume reconstruction on the market.
The Aquilion 64 has been designed to produce high-speed scans, high resolution imaging as well as low contrast resolution. The Quantum Detector that has been built within this scanner will enable the acquisition of 64 thin slices of 0.5mm. You will receive fast temporal resolution, high spatial resolution, outstanding low contract resolution and automatic selection of scan parameters. You will also have access to the SUREWorkflow software, a comprehensive set of advanced clinical applications.
Toshiba Aquilion 64 CT Scanner Features:
Access to a very comprehensive set of advanced clinical applications
Precise isotopic imaging of any clinical site of the body
Fast temporal resolution
For additional information on the Toshiba Aquilion 64 CT Scanner, please contact CT Medical Scanners. We can provide high quality CT Scanner equipment at affordable prices for your medical clinic.