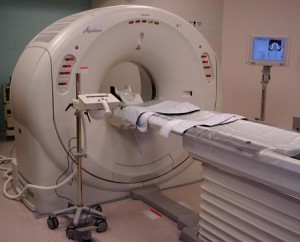 The Aquilion 32 is a whole body CT scanner that has been designed to provide you with excellent image quality and performance. It is equipped with a Quantum 64 row detector and 32 x 0.5 mm and 32 x 1 mm slices that will provide you with true isotropic resolution in a small field of view with 0.5mm. When you buy the Toshiba Aquilion 32, you will have one of the only systems that is capable of scanning 2 isotropic slice widths at 32 slices. This type of resolution is very beneficial for advanced cardiac clinical applications.
The Toshiba Aquilion 32 CT scanner has been designed with volume viewing. This allows you to scan a large volume in a minimum amount of time. The Volume Viewing automatically reconstructs the scanned data into the isotropic volume that is used for your patient diagnosis that will eliminate the need for thin slice archiving.
Toshiba Aquilion 32 CT Scanner Features:
Volume Viewing allows for computed volume reconstruction
Offers surgical precision and isotropic sharpness
Quantum denoising enables you to reduce patient dose up to 40%
Upgradeable to Aquilion 64
For additional information on the Toshiba Aquilion 32 CT Scanner, please contact CT Medical Scanners. We can provide high quality CT Scanner equipment at affordable prices for your medical clinic.