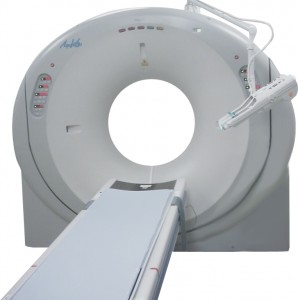 The Aquilion 16 is a whole body CT scanner that will give you excellent image quality and performance. It is equipped with a quantum detector that will provide you with true isotropic resolution in a small field of view with 0.5mm which is the industry's thinnest slice width. When you use this scanner to perform an exam, you are able to scan in one plane which reduces radiation. This scanner offers the SURETechnology that provides your clinic with maximum productivity.
The Toshiba Aquilion 16 CT scanner is designed with a large aperture, a slip-ring gantry and an extra-wide couch for patient comfort in mind. When you buy the Aquilion 16, you have access to the slip ring technology that enables you to perform 0.32 second partial scans and 0.5 routine scans. It also provides fast image reconstruction time at up to 10 images per second.
Toshiba Aquilion 16 CT Scanner Features:
Ergonomic user console
Quantum detector provides three slice combinations
Includes high frequency x-ray generator
Features 896 channels in 40 rows
Fast image reconstruction time
For additional information on the Toshiba Aquilion 16 CT Scanner, please contact CT Medical Scanners. We can provide high quality CT Scanner equipment at affordable prices for your medical clinic.