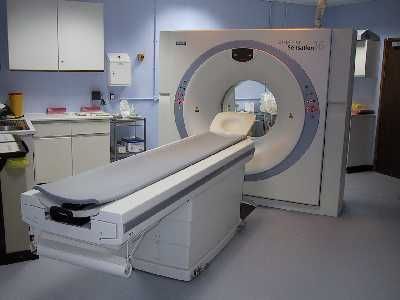 The Somatom Sensation 16 by Siemens is a whole body CT scanner that can perform a whole body 3D image scan of a patient's arteries in < 20 seconds with 0.75mm slices. When you buy the Siemens Somatom Sensation 16, you are going to have a machine that is going to give you exceptional imaging capabilities.
The Siemens Somatom Sensation 16 provides virtually unlimited isotropic volume acquisition. It has 16 simultaneously acquired ECG correlated acquisition. This system provides a platform with optimized performance for cardiovascular imaging and non invasive cardiac imaging. When you purchase the Siemens Somatom Sensation 16, you have access to the software package HeartView CI that is excellent for making a cardiac diagnosis and CI includes the clinical application syngo 3 D VesselView as well as the functional analysis tool syngo ARGUS.
Siemens Sensation 16 CT Scanner Features:
Features 16 detectors
Integrated Speed 4D
Reduces patient dose
420ms rotation time
Offers > 700 slices in a 20 second breathhold
For additional information on the Siemens Sensation 16 CT Scanner, please contact CT Medical Scanners. We can provide high quality CT Scanner equipment at affordable prices for your medical clinic.