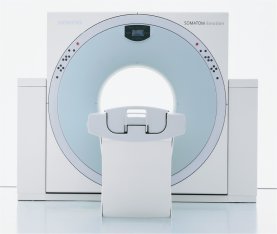 The Somatom Emotion 6 by Siemens is a whole body multislice spriral CT scanner that has been designed for fast patient throughput. It has a slim but wide-open patient gantry that provides your patient with a comfortable and easy to use exam. It has also been equipped with advanced clinical applications that allow fast image reconstruction time as well as high power reserves. When you buy a Somatom Emotion 6, you are providing your patient with a fast and high quality CT.
The Somatom Emotion 6 has been designed to produce high quality images with the lowest possible radiation exposure on your patient during the exam. When you purchase the Somatom 6, you are going to find this CT scanner easy to use and see enhanced productivity for your clinic.
Siemens Somatom Emotion 6 CT Scanner Features:
Easy to use and operate
Ideal for image guided interventions
Equipped with an air cooled and high-speed patient gantry
Fast 3D processing tools
Includes the SureViewTM Multislice image reconstruction system
For additional information on the Siemens Somatom Emotion 6 CT Scanner, please contact CT Medical Scanners. We can provide high quality CT Scanner equipment at affordable prices for your medical clinic.