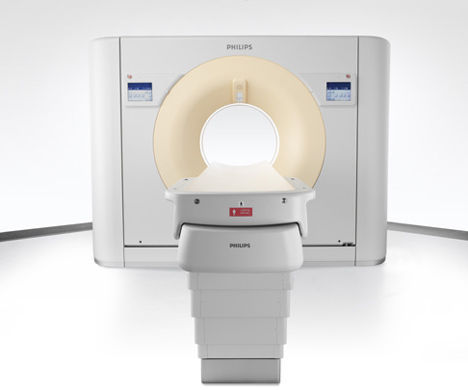 The Brilliance 64 CT scanner by Phillips offers your office a system that has a 64-slice configuration. This scanner has four times the amount of detectors as a conventional multi-configuration CT system. When you buy the Philips Brilliance 64, you will receive not only great image quality but you will experience remarkable speeds too! The Brilliance 64 can cover around 40 millimeters at a single pass in about .4 seconds. This CT scanner can produce sharp, detailed images of any organ you scan in only a few seconds, including 3D images.
The Phillips Brilliance 64 will broaden your horizons in cardiac imaging. The 64 multi-slice configurations allows for breakthrough performance in advanced pulmonary imaging and multi-organ trauma evaluation. This scanner is also equipped with the DoseWise design that offers a set of techniques, programs and practices that will ensure you optimal image quality.
Philips Brilliance 64 CT Scanner Features:
Can extend your clinical boundaries with its advanced clinical applications
Equipped with the DoseWise design
Faster scanning with thinner slices
High Resolution Computed Tomography
For additional information on the Philips Brilliance 64 CT Scanner, please contact CT Medical Scanners. We can provide high quality CT Scanners equipment at affordable prices for your medical clinic.