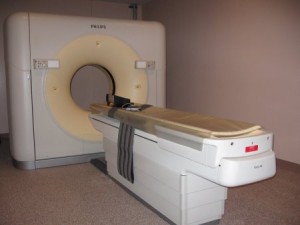 The Brilliance CT scanner by Philips offers a 16 multi-slice configuration that give you 16-slices per revolution for large volume and thin slices for each of your exams. By purchasing the Brilliance 16 CT scanner, you are going to receive fast acquisition with RapidView as well as the high quality images that your clinic demands. You are going to see true real-time imaging with up to 20 images per second. This scanner is flexible and designed to automate your clinical exams with high performance.
The Philips Brilliance 16 CT scanner is equipped with the Philips MRX X-ray tube that gives you legendary reliability and almost instantaneous cooling. You will also have access to the Brilliance Workspace user environment that will improve your productivity by working the way that you work. The Logical Guided Flow TM will prompt you through the scanning and visualization process.
Philips Brilliance 16 CT Scanner Features:
Powerful CT applications
DoseWise design – delivers optimal dose efficiency
Equipped with RapidView – the world's fastest reconstruction system
Brilliance Workspace
ScanTools and ScanTools Pro – improves productivity and workflow
For additional information on the Philips Brilliance 16 CT Scanner, please contact CT Medical Scanners. We can provide high quality CT Scanners equipment at affordable prices for your medical clinic.