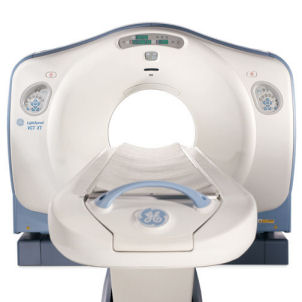 The LightSpeed VCT XT by GE is a whole body CT scanner that has been designed to produce advanced cardiac and neuro imaging using SnapShot Pulse™. This scanner also uses the acquisition technique VolumeShuttle™ to enable 80mm of volume coverage. This machine was the industry's first CT scanner to maintain outstanding image quality while reducing the patient's radiation exposure up to 70%.
The LightSpeed VCT XT has been designed with technology that adapts to each of patient's individual physiology. It is equipped with a 40mm V-Res detector and powerful Performix Pro tube generator along with a powerful 100kw generator. It has the capability of scanning images of the heart and coronary arties in as little as five heartbeats. When you buy the LightSpeed VCT XT, you will have access to enhanced and advanced applications that will provide new capabilities for your office for scanning images of the heart, head and other body parts.
GE LightSpeed VCT XT CT Scanner Features:
Improved neuro CTA and perfusion
Up to 70% lower dose
40mm V-Res detector
Enhanced applications
For additional information on the GE LightSpeed VCT XT CT Scanner, please contact CT Medical Scanners. We can provide high quality CT Scanners equipment at affordable prices for your medical clinic.