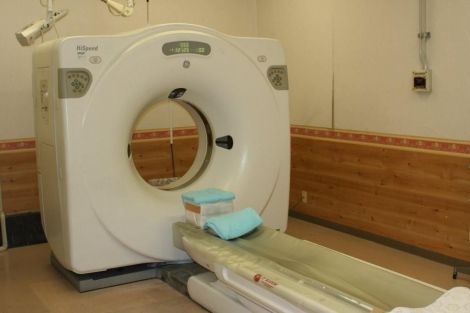 The HiSpeed NX/I Dual CT scanner by GE has set the standards higher for scanning speed, resolution and even coverage. This CT scanner provides you with flexibility, advanced clinical applications and most of all, exceptional patient care. It has been designed with new technologies that will give you high image quality for the lowest dose. When you purchase this CT scanner, you will not only receive excellent diagnostic information, you will also see an increase in your productivity as well.
The HiSpeed NX/I Dual CT scanner is equipped with the multislice technology. This technology provides the scanner with features such as Real time beamtracking, HiLight detector, AutomA, Optimum helical pitchs and Bowtie filter. The gantry and table allows for a 120cm scan range. It is equipped with positioning lights and breathing lights. The minimum required space for this scanner is 13 m2. This scanner will allow you to acquire two thin slices simultaneously in the same amount of time it would take for a single slice scanner.
GE HiSpeed NX/i Dual CT Scanner Features:
Offers real time imaging processing
Fast scans and reconstruction times
Equipped with a operator console that allows for multitasking
Advanced clinical applications options available
AutoFilming, AutoArchive, AutoVoice and AutoTransfer
For additional information on the GE HiSpeed NX/i Dual CT Scanner, please contact CT Medical Scanners. We can provide high quality CT Scanner equipment at affordable prices for your medical clinic.